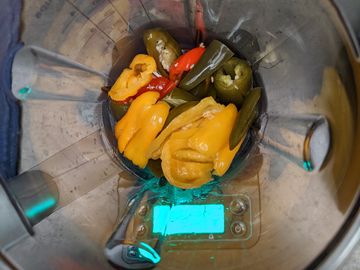 Honey Roasted Hot Pepper Hot Sauce
Making hot sauce at home is easy and delicious! The hot sauce should last 14 days in the fridge.
Ingredients
114g hot peppers (mixture of types)

42g honey

3 cloves of garlic

1 tbsp of chopped basil

13g brown sugar

21g of bourbon or dark rum

170g apple cider vinegar

Juice from 1/2 a lime
Instructions
Preheat the oven to 175C

Wearing gloves, roughly chop the hot peppers, you want big chunks.

Wrap the garlic in tin foil with some oil and place it in the oven. Roast for 20-30min.

Mix the hot peppers with the brown sugar, honey, and alcohol. Roast in the oven on a baking sheet for 12 minutes, make sure to reserve any liquid left.

Let the hot peppers and garlic cool.

Add the peppers and garlic to a food processor or blender with the reserved liquid, apple cider vinegar, and salt to taste. Process until smooth.

Add in the lime juice (add more if you want!).

Pour into a container and store in your fridge.