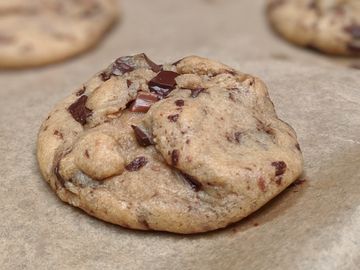 Chocolate Chip Cookies
The best chocolate chip cookies ever! They're even better if you add crushed peanut M&Ms to them. Makes about 16 cookies.
Ingredients
280 grams all-purpose flour

1 teaspoon baking soda

1 1/2 teaspoons cornstarch

1/2 teaspoon salt

170 grams unsalted butter, melted

135 grams brown sugar

100 grams granulated sugar

1 large egg

2 teaspoons vanilla extract

150 grams chocolate chunks or crushed peanut M&Ms
Instructions
Melt the butter in a small sauce pan. Once melted put off to the side to cool to room temperature.

Mix the flour, baking soda, cornstarch, and salt in a large bowl.

In another bowl, mix the melted butter and sugar together. Add the egg and vanilla. Mix until the egg is fully incorporated.

Pour the wet ingredients into the dry ingredients and mix until just combined.

Add the chocolate chunks.

Ball the dough, about 40g each. Refigerate the dough for at least 2 hours but ideally overnight.

Preheat the oven to 160°C. Once heated, bake the cookies for 12 minutes. They'll look underbaked, but don't worry!